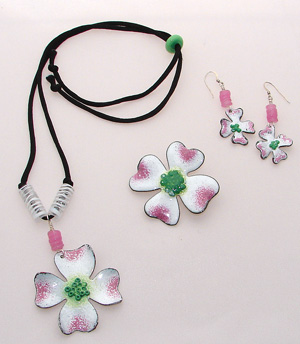 Dogwood Pendant and Pin Set
$48.00 Dogwood Pendant made of Handmade Glass Beads/Glass Enamel/Silver Wire/Black Satin Cord/Copper. All adjustable 32" around.
$30.00 Dogwood Pins are 2" wide. Pins made of Glass Enamels/Copper/Silver Color Pin Back
$40.00 Dogwood Earrings are made of Handmade Glass Beads/Enamels/Copper/Gold Filled Wire. Earrings are about 2" long with hook.
Earrings can be turned into Clip-on or Surgical Steel. An extra charge of $10.00 for Clip-ons.
Please specify color of Enamels.